STUDIO EQUIPMENT SUMMARY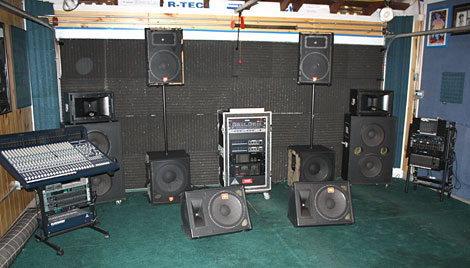 CONSOLE: Mackie 56/8/2 and Behringer Eurodesk MX9000 48/8/2.
DECKS: 72 input Mackie HDR-24s w/Remote 48 and 32 input Alesis XT20 ADATs w/BRC.
MONITORS: KRK 9000B, Yamaha NS-10, and Auratone Primo Sound Cubes near field monitors.
POWER AMPS: (2) Yamaha P-2200 stereo amplifiers, Alesis RA-100s, and others.
MICROPHONES: Neumans, AKGs, Earth Works, Sennheisers, Shures, Crown PZMs, Rode NTK, AT, stereo specialty microphones, and others.
EFFECTS PROCESSORS: Lexicons (LXP-1, LXP-5, and LXP-15) with MRC, Digitech TSR-24, Yamaha SPX-90, Alesis Quadverb GT, Digitech Studio Vocalist and Vocalist II, and others.
SOUND MODULES: Roland JV-880, Korg M-1 and 01, and others.
IN-LINE PROCESSORS: Alesis, dbx, Aphex 107s, BBE Maximizer, Line 6 guitar and bass modules, and others.
SAMPLERS: EMU 32 and others.
INSTRUMENTS: Wide array of quality electric, electronic, and acoustic musical instruments with Mesa Boogie, Fender Twin Reverb, Fender BXR and JBL amplification systems, as well as, Alesis and Roland drum machines, and more.
LISTENING ENVIRONMENT: Pristine Carver audio system with
JBL L-150s and L-65s far field monitors with JBL Subwoofer, and Bose 251s.
MASTERING EQUIPMENT: Alesis Master Link, SPL Vitalizer, TC Electronics Finalizer, and more.

---